I thought days after exams will be sunny... who knows it turned out to be the opposite! It's been raining EVERYDAY!

Some updates since exam ended....

A few of us from 29th oac went for a frog porridge cum durian outing at geylang after my last paper on 4th Dec! Find that frog porridge was not as nice as the last time we went there. But wells, the company was good, and that's wat really matters. It's a night full of fun and laughter again.

And I'm back to my canoe polo training! It seems like what I learnt before the exams have been thrown down the rubbish chute. Oh manz I'm so not conditioned to the fast pace now! And my stern turn! It's gone! Today went for training in the thunderstorm somemore! Was so hum of CAT 1! but well, we jus trained continuously for 4 hours in the pool without changing slots with the girls.... Been a shag day of training... I need to get back the feeling and skill for the sport.... exams are so unhealthy.

After training today I went for PA 10 generation gathering at Sembawang park. Of all place, sembawang park! We were conned to alight the bus 5 bus stops away from the destination! Poor us gotta walk all the way down.... And it rained again before we even reached the park. Seeing those PA kids make me feel old! they are like still studying in secondary school while i'm alr beyond ORD. Nevertheless, I can still take comfort that I am not the oldest there. We had a great evening catching up with one another. It seems like zhengwei is still the most successful of us all, only he is attached so far... Anw, BBQ was great! And talking about how life back in rv was... Those were the good old days in white uniform and white shorts, sitting in the control room playing around, breaking the school rules. And the outing ended off with our hokkien PA cheer! One bunch of idiots cheering and breaking the peace of the park... but who cares... although I haven been cheering for long! It's fun though. Thanks juniors for organising the outing and thus the opportunity to catch up with one another. Looking forward to maybe a CNY reunion dinner.

And it continued raining... I think it will rain tomorrow too... can't run!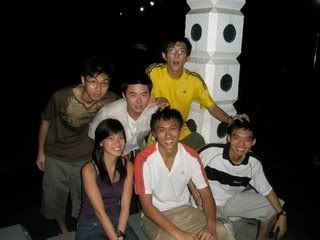 The old people



Group photos